Yesterday, Courage California, the largest progressive organization in California, in partnership with Indivisible CA: StateStrong, announced the release of its sixth annual Courage Score during a virtual press conference. Courage Score is an annual report card that grades California state legislators on how courageously they have — or haven't — represented their constituents against the corporations that exploit our communities.
Media was provided a tour of the newly launched Courage Score site, which has been redesigned in order to improve user experience and spotlight how corporate and special interests influence votes on bills. In addition to the new user-friendly website and branding, CourageScore.org now features a section on campaign contribution data from influential industries so constituents can see how legislators' votes correlate with the special interest(s) that funded their campaign.

SEE THE 2020 COURAGE SCORE REPORT CARD HERE: CourageScore.org

Courage Score allows Californians to see their state representatives' "Courage Score" on a scale of 0-100, with a corresponding letter grade, A to F. The Courage Score is a rating of each legislator's willingness to stand up for people over corporate profits.
Legislators were evaluated on how they voted on 38 bills across issues from the 2020 legislative session — selected based on a survey of 105 progressive ally organizations — and the extent to which their votes accurately reflect how their constituents have voted in recent elections. Representatives who received a grade of D or F and objectively voted in ways that did not reflect their communities' values are featured in the Courage Score "Hall of Shame," whereas those who consistently put their communities first are named to the Courage Score "All-Star" team.
"Californians deserve representatives who work to pass policies that reflect our communities' values and priorities, and not protect the bottom lines of the corporations and special interests; that spare no expense to buy votes in Sacramento," says Irene Kao, Executive Director of Courage California. "Many Californians still struggle to get clean water, high-quality schools, safe housing, and affordable healthcare — while represented by a Democrat — not realizing that some Democrats take special interest money and will turn around and vote in support of those special interests, like Republicans. It is critical that Californians have the power and voice to hold state legislators accountable, demand that they vote with courage, and stand up to corporations and special interests. Our annual Courage Score collects complicated data, compiles it in an easy to understand way, and shines a light on how state legislators vote and the money they accept from special interests. Having this information accessible empowers Californians to hold their legislators accountable and, in some cases, elect more community-driven, representative legislators."
Courage California's vision is for Courage Score to play an integral role in reforming our democracy — so communities have a voice in what gets done in California. When Californians understand how representatives vote on the issues they care about and how campaign contributions can influence policymakers — constituents can better hold their legislators accountable.
---
HALL OF SHAME:
The report card features a "Hall of Shame" for members of the California Legislature who are most out of step with their constituents, and most closely aligned with the corporate lobbyists and campaign contributors that exploit Californians. They received a "D" or "F" grade and represent a district where constituents objectively support progressive solutions to challenges that face California.
Courage Score 2021 Hall of Shame:
AD62 Autumn Burke
AD09 Jim Cooper
AD69 Tom Daly
SD03 Bill Dodd
AD11 Jim Frazier
SD07 Steve Glazer
AD14 Tim Grayson
SD14 Melissa Hurtado
AD48 Blanca Rubio
SD22 Susan Rubio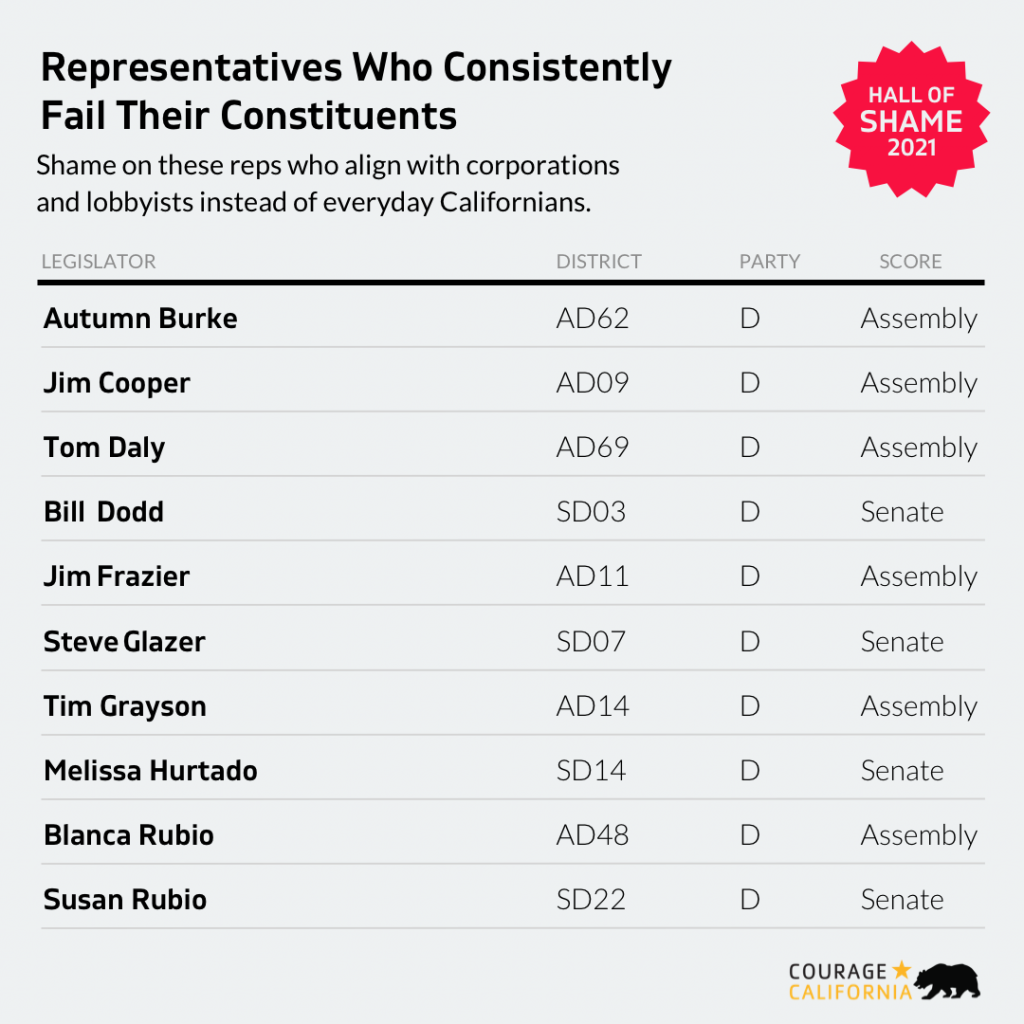 ---
ALL-STARS:
Members of the CA Legislature who demonstrated courage in taking hard votes to support their communities scored 100.
Courage Score 2021 All-Stars:
SD39 Toni Atkins
SD24 Maria Elena Durazo
AD43 Laura Friedman
SD33 Lena Gonzalez
AD27 Ash Kalra
SD20 Connie Leyva
AD07 Kevin McCarty
SD25 Anthony Portantino
AD63 Anthony Rendon
AD39 Luz Rivas
AD53 Miguel Santiago
SD09 Nancy Skinner
AD29 Mark Stone
AD19 Phil Ting
AD15 Buffy Wicks
SD10 Bob Wieckowski
SD11 Scott Wiener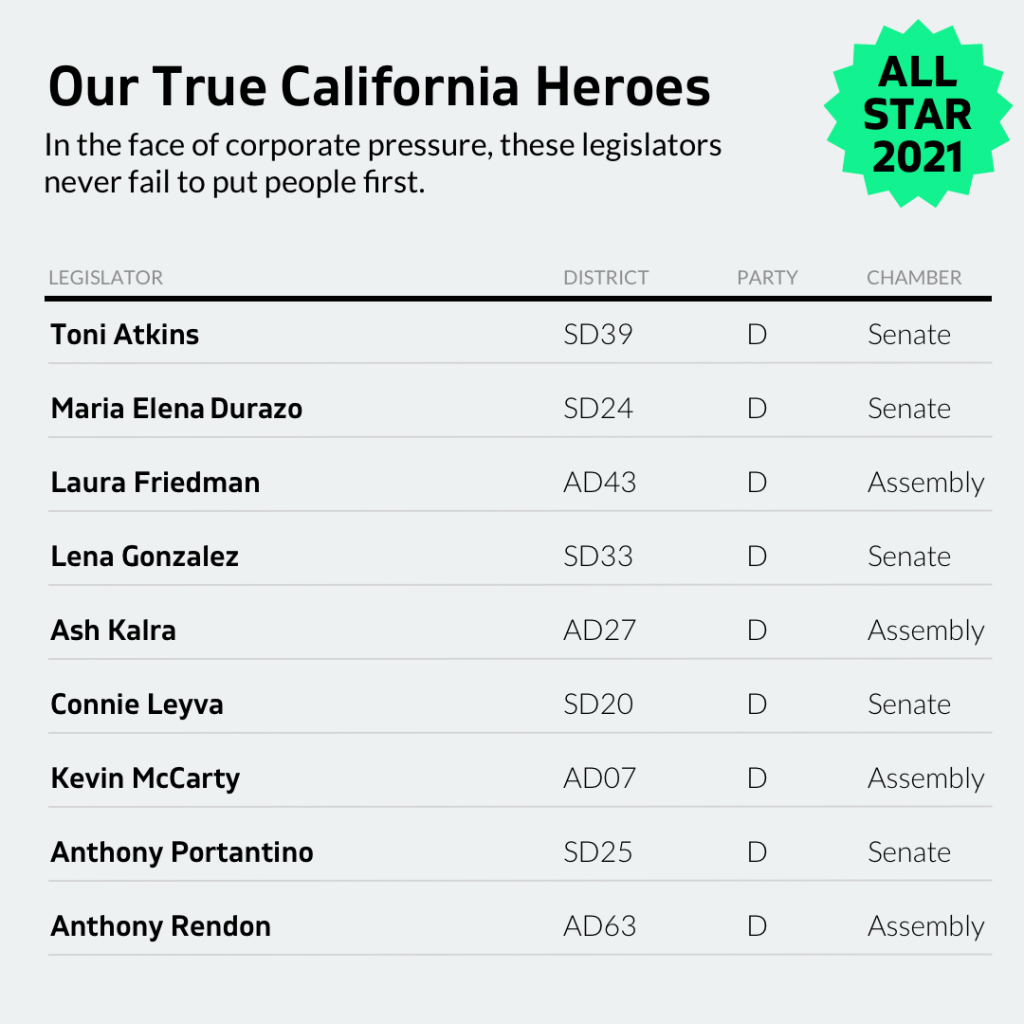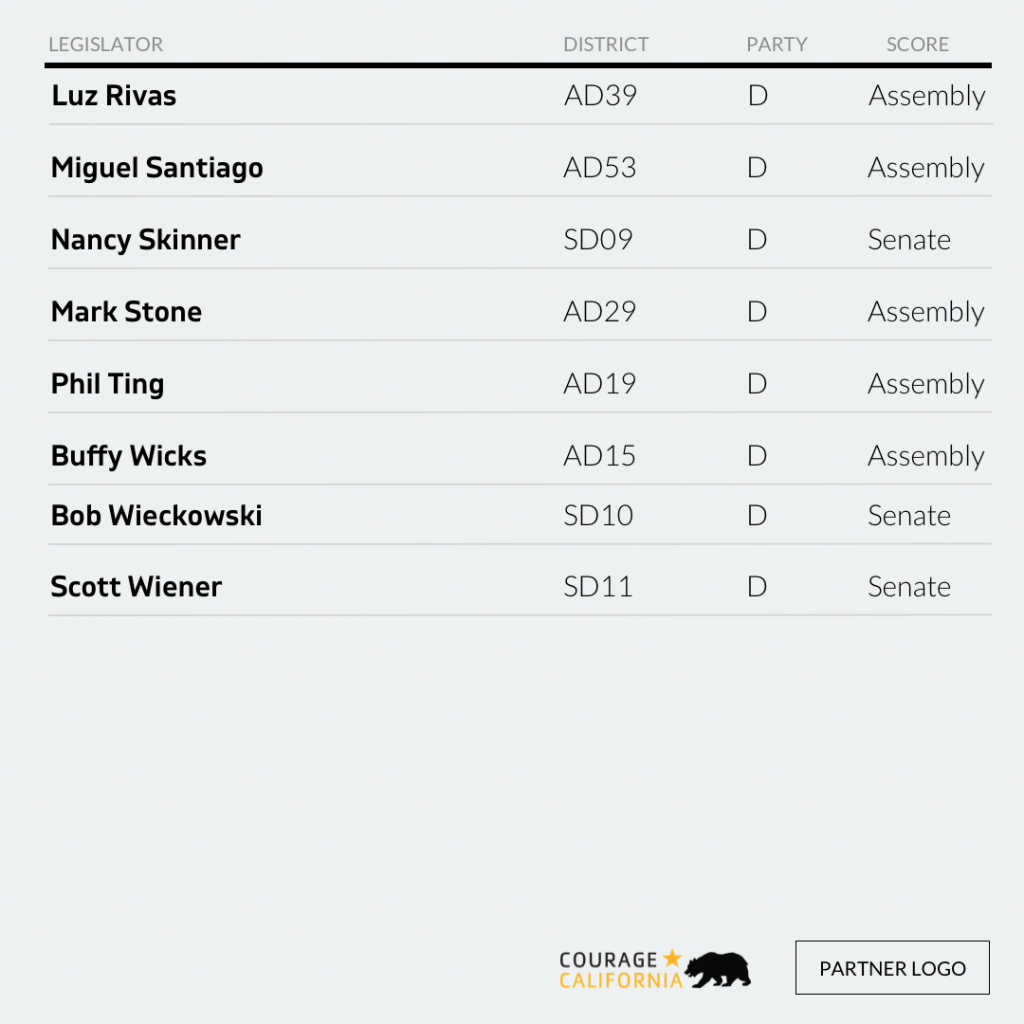 ---
Courage Score helped inform Courage California's candidate endorsements for the 2020 cycle, including supporting Tracie Stafford and Marisol Rubio's challenges of lifetime Hall of Shamers Assemblymember Jim Cooper and Senator Steve Glazer, respectively. Several Courage partner organizations also rely on the Courage Score to identify election targets, which will inform the coordination of plans for the upcoming 2022 election.
"We've been partners with Courage California because they are the largest and most inclusive organization in the state. They evaluate legislators on a variety of issue areas that are also important to Indivisible California Statestrong and [our] more than 80,000 members across the state. They [Courage California] provide us a tool to hold our elected representatives accountable, said Dennessa Atiles, Senior Regional Organizer at Indivisible CA: Statestrong.
"We're excited to see progressive champions return as All-stars like Senator Weiner. Senator Weiner takes bold stands and advances progressive legislation for his constituents that benefit all Californians," said Atiles. "The Courage score also helps us hold accountable elected representatives who fail to be bold and create and support policies that would help their district. It's no surprise to see Assemblymember Cooper in the hall of shame once again. He routinely slinks off the Assembly floor when it comes time to take a stand on important legislation."
For the sixth year in a row, Courage California is the only progressive organization that has tracked and rated legislators across a broad range of issue areas: from criminal and racial justice, to consumer protection, immigration, economic justice, gun violence prevention, gender equality, health, housing, LGBTQ rights, workers' rights, environmental justice, environmental protection, and more.
The report card is endorsed by 22 organizations, including:
Bay Rising Action, Black Women for Wellness, Brady Campaign to Prevent Gun Violence, CA Immigrant Policy Center (CIPC), CA StateStrong (Indivisible coalition in California), CAUSE, Center for Biological Diversity, CNC, Community Coalition, Consumer Attorneys, Democracy for America (DFA), East Yard Communities, InnerCity Struggle, NARAL, Patriotic Millionaires, Progressive Democrats of America (PDA California), SameSide, Student Debt Crisis, Universal Income Project, Working Families Party CA, Working Partnerships USA.
"Courage is proud to provide Courage Score as a tool for constituents and partners so they can make informed decisions at the ballot box," said Kao. "With Courage, we can return democracy to the people."
A full list of the bills used to calculate the 2020 Courage Score report card can be found here: https://couragescore.org/bills/