Abortion Rights
The Supreme Court issued its opinion in Dobbs v. Jackson Women's Health Organization, overruling Roe v. Wade and Planned Parenthood v. Casey.
---
---
Texas: Alliance for Hippocratic Medicine v. FDA
Why does this court case in Texas matter?
The judge could grant an emergency injunction that would force the FDA to withdraw its approval of mifepristone—which would pull it off the market and, in effect, ban it nationwide
Medication abortion is the most commonly used method of abortion. Banning mifepristone nationwide would have severe consequences on people's ability to access critical abortion and miscarriage care.
Abortion access in our country is already in crisis after the Supreme Court overturned Roe v. Wade. If this judge takes medication abortion off the market, even more people will lose the freedom to make their own decisions about their lives, bodies, and futures. prochoiceamerica.org
---
Six things you can do to protect abortion:
Donate to ACCESS Reproductive Justice — the only abortion fund in California — and Courage California in order to ensure people in California and people traveling to California can safety access abortion care and to continue the fight to enshrine abortion protection in California and the nation.
Listen to our "Courage – It Looks Good On You" podcast episode that discusses the future of abortion and features Nourbese Flint of Planned Parenthood, Onyemma Obiekea of Black Women for Wellness, Shannon Hovis of NARAL Pro-Choice CA, and Sierra Harris of the National Network of Abortion Funds. Learn how California's fight to expand abortion rights and access can be a model for the nation.
Sign up to receive our voter resources to stay updated on which federal, state, and local leaders and candidates support or oppose abortion.
---
Abortion Rights Resources
---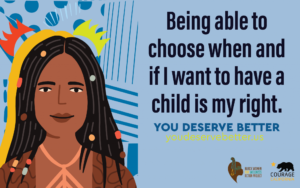 ---
Help defend reproductive rights!
---