By Mai Nguyen Do, Courage California's Policy & Partnerships Lead
On August 3, 2022, as a part of the Building the California Dream Alliance (BCDA), Courage California met with legislators in Sacramento at the California State Capitol for our annual Lobby Day.
From our Dream Alliance priority legislation list, Alliance partners chose to highlight 3 bills for the BCDA Lobby Day- AB 256 (Kalra, Kamlager, R. Rivas, Santiago), AB 257 (Holden, Carrillo, Low, L. Rivas), and SB 972 (Gonzalez).
AB 256 would make the 2020 California Racial Justice Act retroactive to ensure those currently incarcerated can challenge racial bias in their convictions and trials.
AB 257 would improve standards for workers in the fast food industry.
SB 972 would amend the California Retail Food Code to make it easier for street food vendors to obtain permits.
The Courage California team (including myself, Mai Do, Courage's Policy and Partnerships Lead, Mai Thao, our Political Director, and Isidra Chavez, our Communications Associate), were excited to join our partners and over 150 community members to share real stories about the impact of these bills with California state legislators. Legislators are inundated with information from other legislators, staff, and lobbyists every day, so hearing from everyday Californians is critical to ensuring the legislature is representing the interests and needs of those they serve.
We arrived early that morning to help set up and run the registration table. The West Lawn of the California State Capitol teemed with energy that morning as the crowd of workers, constituents, and advocacy organization staff members gathered to prepare for the day's lobby visits. The plurality of the lobby day attendees were street food vendors and fast food workers, many of whom had never lobbied before, sporting t-shirts printed with phrases such as "Legalize street vending," "We're not stopping until we win our union," and "Fast food worker justice now!"
In addition to supporting at the event's registration table, I volunteered to serve as a Team Lead; being responsible to organize, train, and facilitate a small team for the entire Lobby Day. My lobby team included an advocacy organization staff member, a fast food worker, and my two fellow Courage team members. We congregated to quickly get to know each other, go over our assigned schedule of visits with legislators, and discuss how we were going to uplift the three bills when we spoke with our elected leaders. Thirty minutes prior to our first appointment at 10:30am, we walked as a group across the street over to the Capitol Annex Swing Space.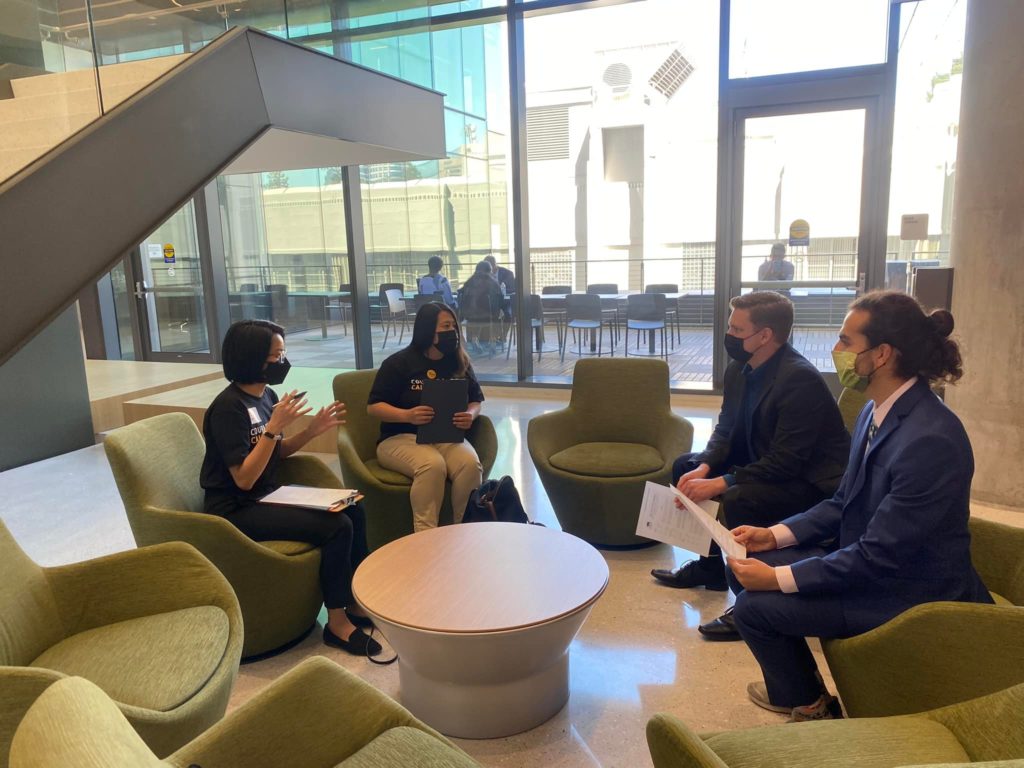 The Capitol Annex Swing Space, the building that currently houses the California state legislators' offices, sits just across the street from the Capitol. Workers and advocates participating in the BCDA Lobby Day filled nearly every corridor of the Swing Space. Their deeply impactful, personal stories that emphasized the importance of the Alliance's priority bills echoed throughout the building the entire afternoon. When our lobby team met with the offices of Sens. Limón and Wiener, the worker who was part of the lobby team I led, spoke of her own experiences as a young woman of color working at a major fast food chain. Her stories about being deprived of adequate breaks during shifts and mistreatment by supervisors highlighted the critical need for legislation like AB 257.
Around noon, several legislators joined BCDA on the West Lawn for lunch. We caught the tail end of legislators' brief remarks during the lunch period as we walked back from the Swing Space. Just before grabbing a bite to eat, the Courage team members greeted and introduced ourselves to Assemblymember Ash Kalra and Senator Dave Cortese, both of whom we thanked for their work and for making time out of their schedules to join BCDA that afternoon.
Separately from the BCDA Lobby Day, Mai T., Isidra, and I were also able to find time on Aug. 3 to meet with several legislators' offices on behalf of Courage California. We met with Sen. Durazo and Sen. Wiener, as well as staff members from the office of Asm. Lee, and we were excited to share Courage California's 2022 legislative priorities with the offices of these progressive champions during what was our first visit as Courage team members to the Capitol.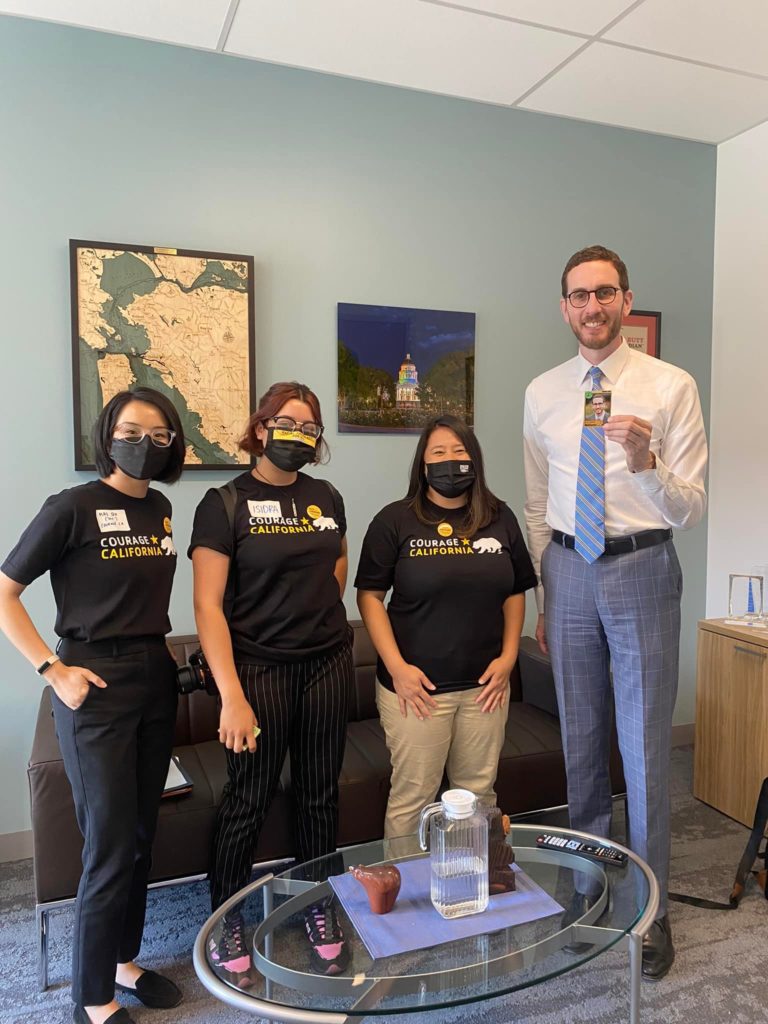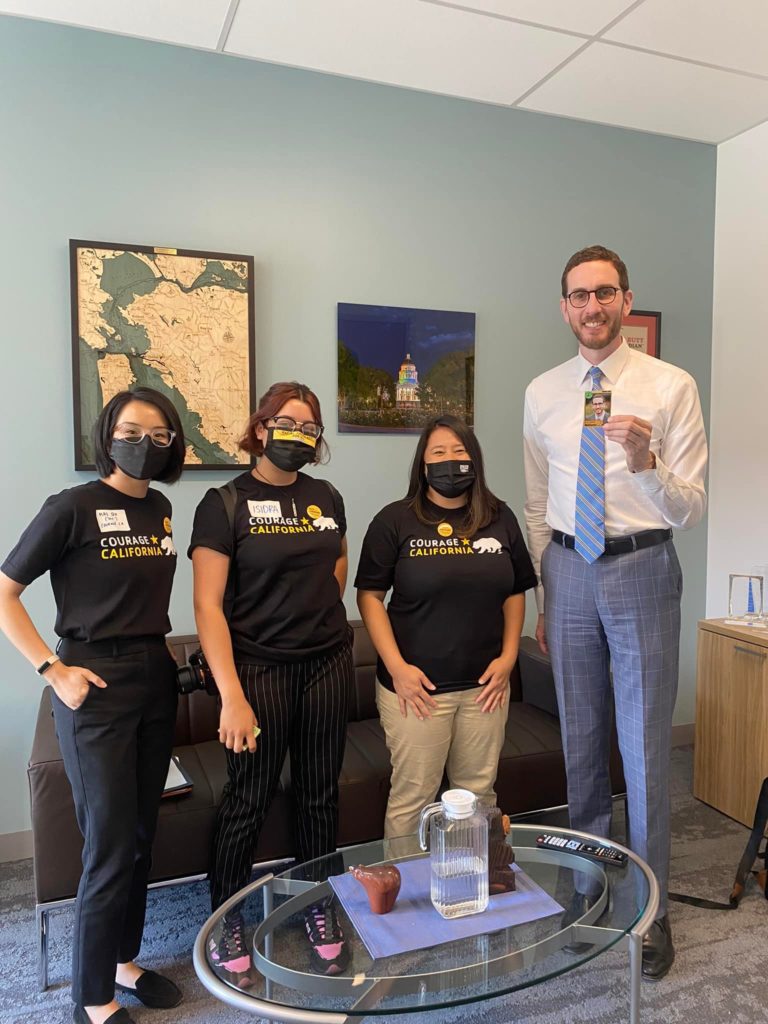 Advocacy days, like the Building the California Dream Alliance Lobby Day, highlight just how important it is for the voices of everyday Californians to be heard. When legislators have hundreds of bills before them, it's the daily experiences of those like the fast food workers, street food vendors, and nonprofit staff who work with impacted populations that help legislators understand the tangible effects of legislation they are tasked with voting on.
I've participated in several lobby days in Sacramento over the years. Each time, I'm struck by the stark contrast between the personal stories of daily struggle shared by people I'm advocating alongside and the grandeur of the huge state buildings we're lobbying in.
The Capitol should be the people's house. It should not be uncommon to see workers or hear stories shared across languages. The challenge, then, is ensuring everyone knows that they have a role to play in the legislative process and knows how to do so — from making sure Californians know who represents them in the state legislature to sharing information on how to contact their legislators.
I think this is a good reminder for all Californians – a meeting with our state legislators is just a quick phone call away.
Want to find out who your representative is and how to contact them? Visit: couragescore.org
Added perk, you'll be able to see how well your legislator represent you!