CALIFORNIA'S LARGEST ADVOCACY ORGANIZATION ENDORSES SLATE OF DIVERSE CANDIDATES AHEAD OF 2024 PRIMARY ELECTION
Courage California Endorses Progressive State and Regional Leaders In Key Races
Los Angeles — Courage California has announced the endorsement of seven (7) state legislative candidates, and one congressional candidate, five months ahead of California's 2024 Primary Election, on March 5, 2024.
The announced slate boasts progressive and diverse leaders, of which six of the endorsed candidates are women of color and three are from the LGBTQ+ community – with over half of the candidates from the Inland Empire.
2024 Courage California Endorsements
Congressional District 12: Dir. Lateefah Simon
State Senate District 5: Rhodesia Ransom
State Senate District 25: Cm. Sasha Renée Pérez
State Senate District 29: Asm. Eloise Reyes
Assembly District 15: Cm. Monica Wilson
Assembly District 47: Cm. Christy Holstege
Assembly District 50: DeJonaé Shaw
Assembly District 53: Javier Hernandez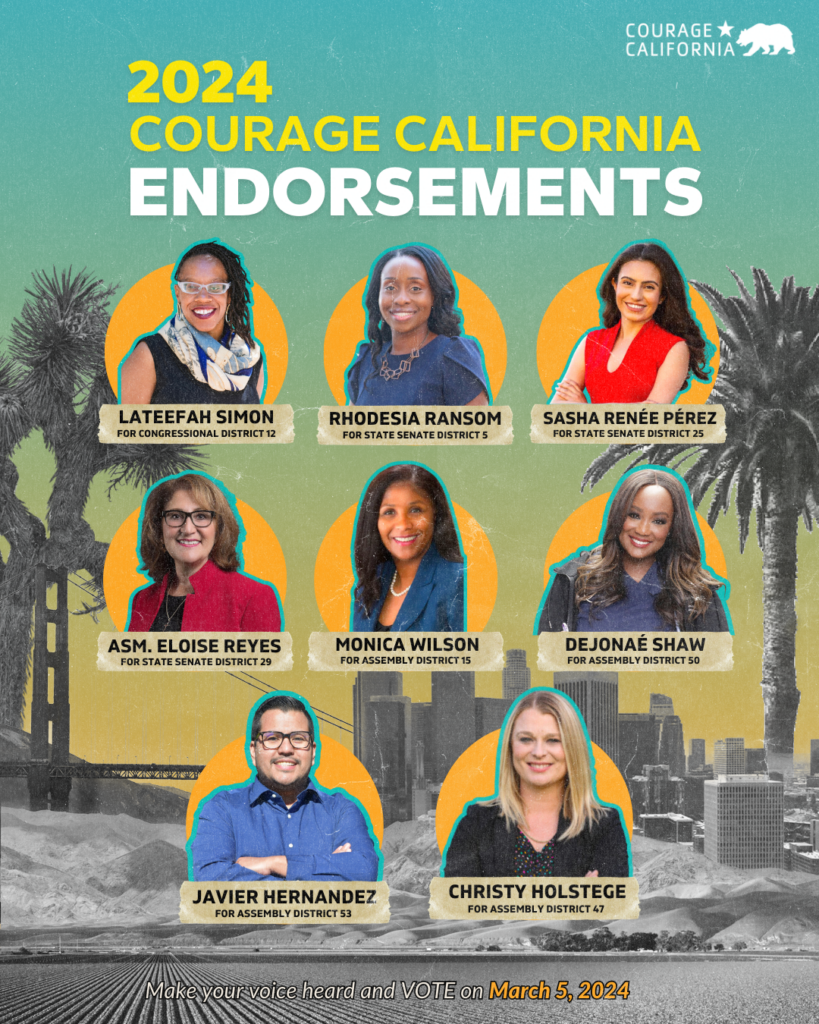 "Courage California is excited to endorse Lateefah Simon, Rhodesia Ransom, Sasha Renée Pérez, Asm. Eloise Reyes, Monica Wilson, Christy Holstege, DeJonaé Shaw, and Javier Hernadez as the political champions we need now to build on our progress on economic, racial, and climate justice," said Irene Kao, Executive Director of Courage California.
"While California and national leaders have passed historic civil rights and environmental legislation the last few years, we need champions who are willing to represent Californians in the face of unchecked corporate power and MAGA politics – which continues to threaten our environment, economy, health, and safety, " said Kao. "Courage California's endorsed candidates have long track records of working on behalf of their diverse communities across the state, and the leadership to drive key solutions to the challenges that families face in California."
---
BART Director Lateefah Simon
Lateefah Simon has the community organizing and governing experience to be the trusted and progressive voice for East Bay residents in this critical seat. She understands how the issues working families face are connected and has advocated for community-driven solutions in every role she's held in nonprofits, commissions, and boards. Californians need Lateefah in Congress to push for more progress in the state and the nation.
Rhodesia Ransom
Rhodesia Ransom is an effective and deeply committed leader with a strong track record of engaging communities on policies and investments that make a difference for and brings residents together.
Alhambra City Council Member Sasha Renée Pérez
Sasha Renée Pérez is an established organizer and leader in the district who understands how to bring people to the table to pass policies and secure investments in programs and services across the board that serve working families who are struggling in California.
Assemblymember Eloise Reyes
Since she was first elected to the State Assembly, Asm. Eloise Reyes has been a proven champion for Inland Empire residents, voting and authoring key bills on environmental justice, public safety, immigration, and worker rights and earning her place as a Courage Score All-Star this year.
Antioch City Council Member Monica Wilson
Monica Wilson is a proven leader who has successfully addressed long standing problems by working with community members and other leaders for solutions that make neighborhoods safer and healthier.
Palm Springs City Council Member Christy Holstege
Christy Holstege is an effective grassroots leader whose background as a civil rights attorney and City Councilmember and Mayor of Palm Springs demonstrate her ability to bring investments and services to communities most in need.
DeJonaé Shaw
DeJonaé Shaw brings the necessary leadership and urgent focus to advocating for policies and resources for working class families in the Inland Empire, honed from her experience as a frontline nurse and union leader who has dedicated her life to addressing the struggles her local communities face.
Javier Hernandez
Javier Hernandez is a longtime advocate for immigrants and communities who have not had a voice at the table, and he will be a progressive champion for his district alongside the people he serves.
---
Courage California is dedicated to supporting and electing candidates who will actively champion our issues and communities, especially in the face of corporations and special interests and the inertia of a political system that doesn't always serve our people well.
BART Director Lateefah Simon, Rhodesia Ransom, Alhambra City Council Member Sasha Renée Pérez, Assemblymember Eloise Reyes, Antioch City Council Member Monica Wilson, Palm Springs City Council Member Christy Holstege, DeJonaé Shaw, and Javier Hernadez are leaders who will serve all Californians, effectively and equitably.
Courage California works with local and statewide partners to identify priority races, screens candidates based on their top issues, approach to passing progressive policies, and record of governance and leadership.
Voters can learn more about the candidates in Courage California's Voter Guide, couragevoterguide.org. The California Primary Election is on March 5, 2024.