America is suffering through a deadly pandemic and an economic crisis, and what did Devin Nunes do? In true Nunes fashion, he skipped a critical COVID-19 relief bill vote to go to Florida and push the Big (and dangerous) Lie that Donald Trump had the election stolen from him.
At the 2021 CPAC convention, Devin Nunes continued to shamelessly push lies and conspiracy theories like those that led to the January 6 insurrection. Mirror, mirror, on the wall… who's the most treasonist of them all?
That's why Courage California is awarding Devin Nunes — a Trump Medal of Freedom recipient and a member of California's Seditious Seven — our first-ever Medal of Treason!
Devin Nunes may not have noticed, but California and the entire country are still suffering from the coronavirus pandemic.
It is clear where Devin Nunes' priorities lay, his actions these past weeks, months, and years speak louder than his words — which are out there.
Instead of showing up to vote on a COVID-19 recovery bill for the American people, he chose to speak at the Conservative Political Action Conference to spread lies about election fraud. He claimed that California registers non-citizens to vote and forces people into voting when they don't want to. He lied about President Biden's coronavirus bill, falsely claiming that the bill includes funding for an underground tunnel from San Francisco to Silicon Valley, and even said that some of the $1.9 trillion in the bill would be used to "buy votes."
For four years, Devin Nunes was Trump's #1 stooge in Congress. He contributed to sedition, and now that Trump is gone, he's even worse.
Courage California has designed a Medal of Treason, especially for Nunes.
And we will continue to dog Nunes with it at every turn, until he is defeated. Consider our Medal of Treason the kick-off …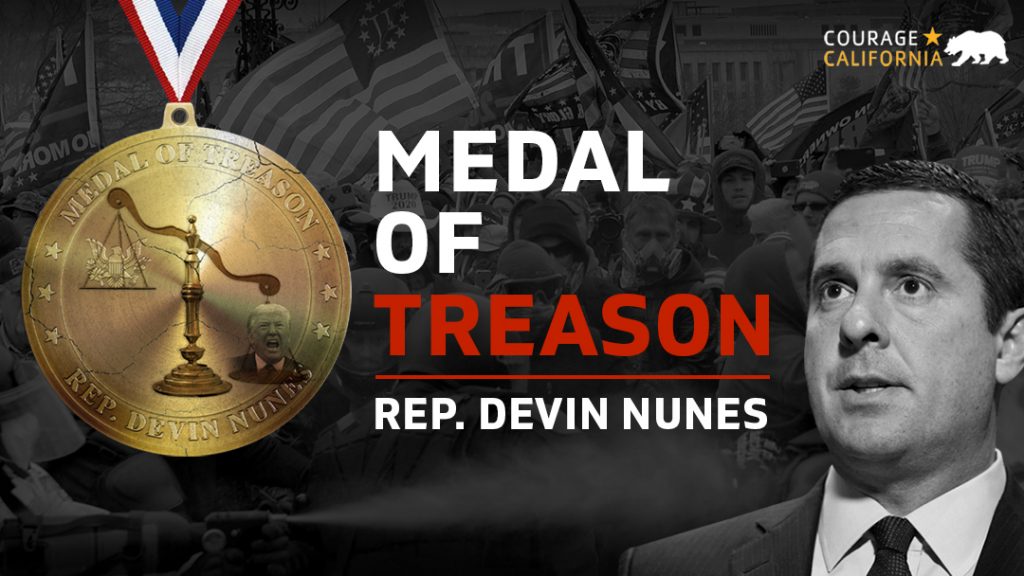 Will you help us award Devin Nunes the Medal of Treason? We want to make a big media splash to accompany our award — to really highlight all the treason Devin Nunes has accomplished!