By Olivia Garcia
Having worked in the fast food industry for twenty years, I know what it's like when workers are silenced and corporations' profits are put above the well-being of people. That's why I decided to join Fight for $15 and a Union. Unless the cooks, cashiers, and janitors who do the work are heard, the lack of decent pay and benefits will drive us further into poverty, and the dangers we face day in and day out will persist. Cooks, cashiers, and janitors at fast food restaurants work in near-constant fear for our safety.
Once, while working a morning shift at a McDonald's drive-thru, I was violently threatened by a customer who was shouting xenophobic remarks at me. I've since been diagnosed with PTSD and struggle with panic attacks, depression and anxiety, but McDonald's has not offered to help me to recover from this painful incident. Unfortunately, I'm not alone.
Between 2017 and 2020, there were 77,000 911-calls regarding violent or threatening incidents at major chain fast-food restaurants in nine major California cities, demonstrating an ongoing failure of fast-food chains to invest adequately in the security and safety of their workers. But when workers speak out, we are ignored or face retaliation. Multi-billion dollar fast food corporations, instead of paying decent wages and benefits, push the cost of caring for their workers onto California taxpayers at an estimated $4 billion a year.
Violence has become a normal part of working in the fast-food industry, but it shouldn't and doesn't have to be.
For ten years fast food workers have been organizing to improve our working conditions and demanding that we have a seat at the table through the Fight for $15 and a Union. So last year, when lawmakers passed the FAST Recovery Act (AB 257), we celebrated. The FAST Recovery Act creates a Fast Food Council where workers, fast food corporations and franchise owners, as well as government representatives can create solutions to the problems facing the fast food industry.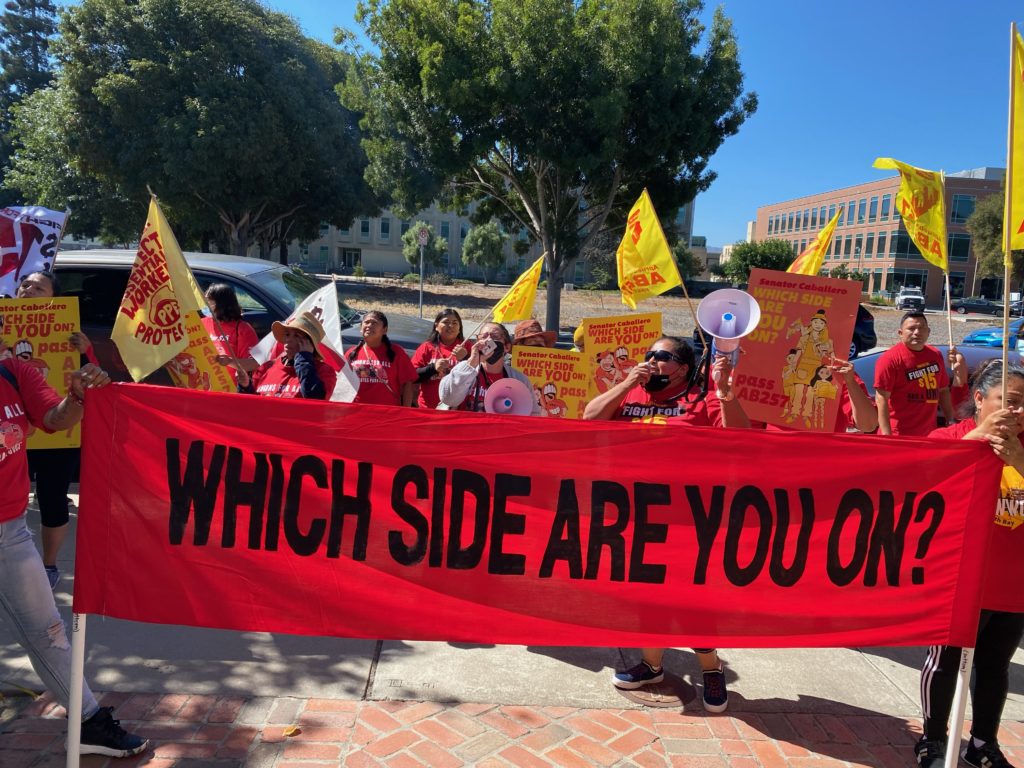 Unfortunately, our celebration was short-lived. A day after Gov. Newsom signed the FAST Recovery Act, and giant fast-food corporations like McDonald's, Chipotle, and Starbucks, working through the Save our Local Restaurants Coalition, announced their efforts to overturn the ground-breaking law that would have empowered more than half a million fast food workers. Fast-food corporations have raised over $20 million to try to put a referendum challenging the FAST Recovery Act.
In trying to overturn a groundbreaking law that empowers workers and that gives us the ability to raise standards in the fast-food industry, corporate-backed paid signature gatherers have been caught lying to the public. For example, in Gilroy, California I saw one of these paid signature gatherers promise that by signing the petition, people would be helping raise the wages of fast-food workers. Having spoken to lawmakers about the FAST Recovery Act and advocating for its passage for more than two years, I know that overturning this law would do the opposite.
In my two decades working in fast food, I have seen giant fast-food corporations doing whatever it takes to protect their profits, from fighting increases to the minimum wage and engaging in wage theft, to firing people for speaking out against harassment on the job. These same corporations are using misleading tactics and weaponizing their wealth to silence the people who work in their kitchens and dining rooms.
Every Californian should be disturbed by how corporations are using their deep-pockets to distort democracy. We've seen Uber, Lyft, and DoorDash spend $200 million to pass the misleading and unconstitutional Prop 22. Gig corporations' record-setting spending deceived voters into stripping ride-share and delivery workers of basic protections and their right to fight for better benefits, pay and job security – and their workers are paying the price.
Unfortunately, this issue isn't isolated to labor rights. Big Oil companies have deployed paid signature gatherers to roll back SB 1137, a law that would stop new oil drilling near schools, hospitals, and vulnerable communities. These paid signature gatherers have also been caught spreading lies so that they can roll back our state's progress.
Rich corporations shouldn't be the ones that get to decide the laws for California. But without reforms, corporations will continue to abuse the referendum process, spending millions to sow confusion and to drown out the cries of the low-income, Black, brown, and immigrant communities that have been devastated by unchecked corporate greed.
We need better safeguards on our ballot referendum process so that lawmakers can do the job we've elected them to do: pass laws that protect our communities and build a more equitable California.
And Californians need the FAST Recovery Act (AB 257) to survive this attack by lobbyists and corporations. Our future depends on it.
Guest contributer Olivia Garcia is a Fast Food Worker and Leader in Fight for 15 and a Union.