We're asking Californians to #BlackOutBezos on #BlackFriday (and #CyberMonday) to help us send a message to Jeff Bezos — in a language he understands: dollar signs — to stop exploiting California workers, business owners, and communities!
Obviously, being able to shop on Amazon is a convenience. The platform sells everything, and most of it arrives in just two days. But there are alternatives, and we need your help to spread the word to your friends and familiy members by putting the spotlight on your favorite local businesses.
Share your favorite #ShopLocalShopSafe alternatives to buying on Amazon this Holiday Season ~ and help #SpotLightLocal community retailers that offer delivery or have curbside pick-up in your area. Use hashtag #SpotLightLocal when sharing your recommendations on Social Media and encourage others to share!
Here are some tips on how to shop safely and locally in 2020:
Get to know your local businesses. You can probably find almost anything you want in your community — the key is knowing where. 
Try searches on Google or Yelp!, and use the phrase "independently-owned" in order to filter out big box stores like Walmart.
Ask your social media circles on Facebook and Nextdoor for what you're looking for, and search for small business pages.
Check out sites like ethicalconsumer.org and thegoodtrade.com to see ratings of companies that make the gifts you're trying to buy.
Call ahead and ask businesses for curbside pickup and contactless shopping options — most have them.
Shop local artisans for gifts like soaps, baked goods, and jewelry. Etsy.com gives shoppers the option to filter by location so you can find crafters right in your community. Or you can search for local markets and contact the vendors directly.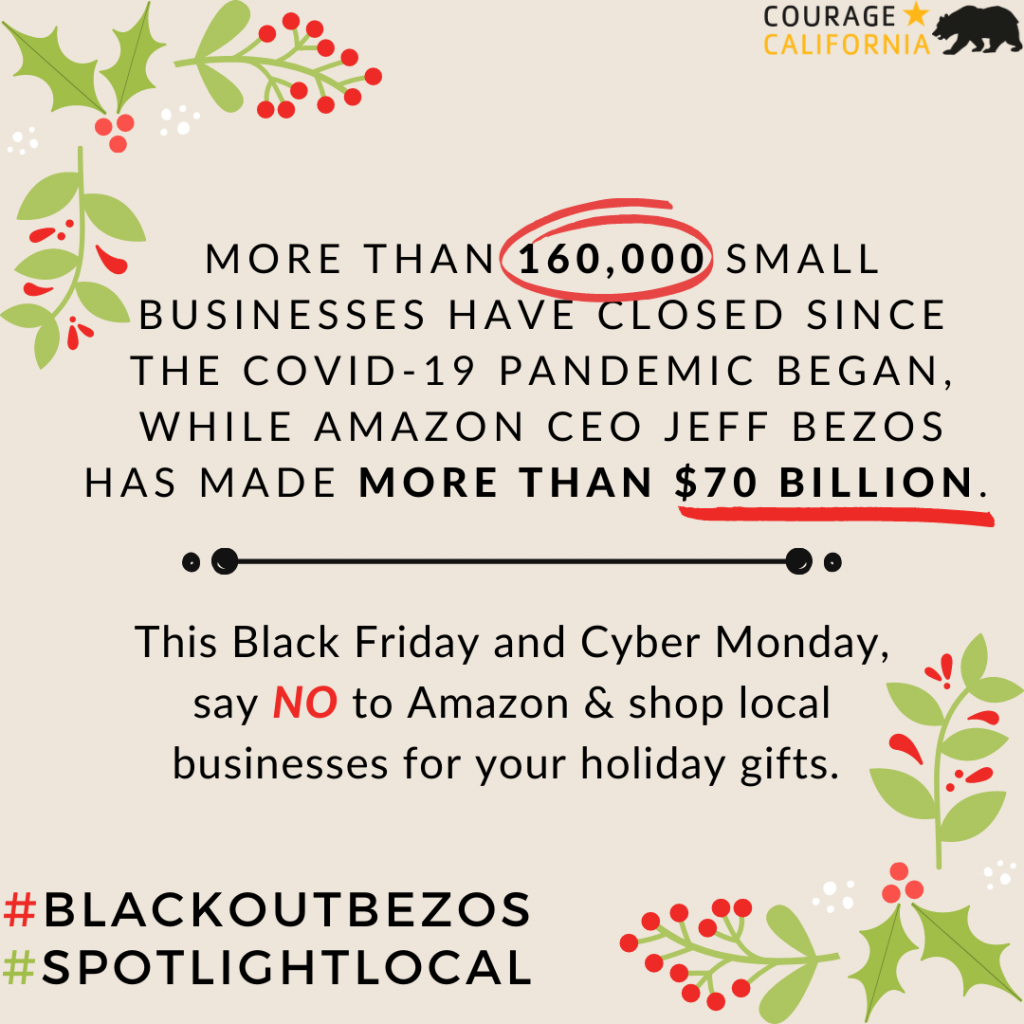 Support your neighbors while sending a message to Amazon. #BlackOutBezos this Black Friday and Cyber Monday, and shop local.
Click here to sign our pledge!
It's more important than ever that we commit to shopping local — whether online or in-person — and stop Amazon from claiming all of the profits during Black Friday and Cyber Monday.
DID YOU KNOW: More than 160,000 small businesses have shut down since the beginning of the pandemic — and California's businesses have been hit hardest. But while our neighbors are losing jobs and their family stores, Amazon is raking in money. 
With Courage, and unity, we can #BlackOutBezos!