No to the Recall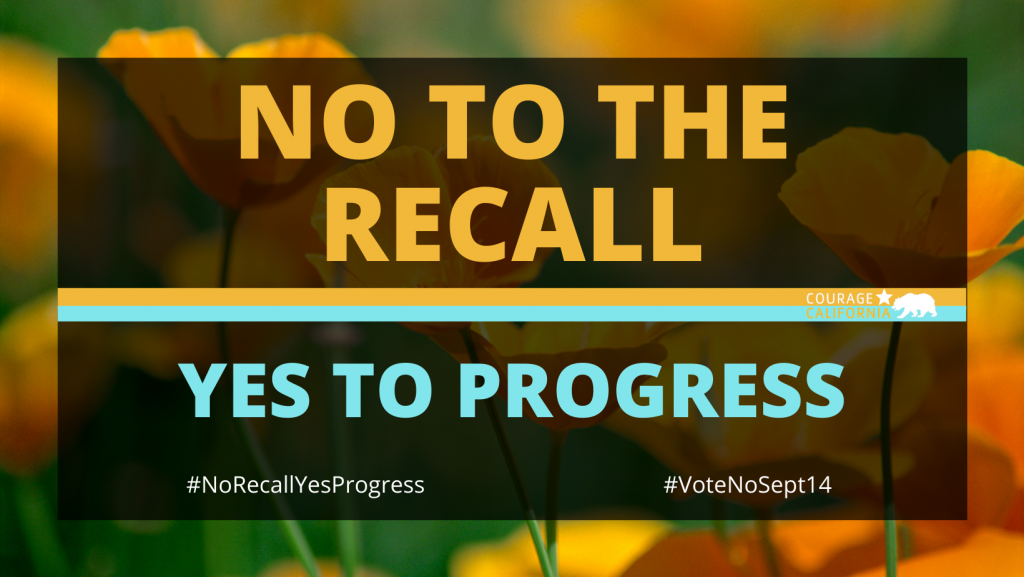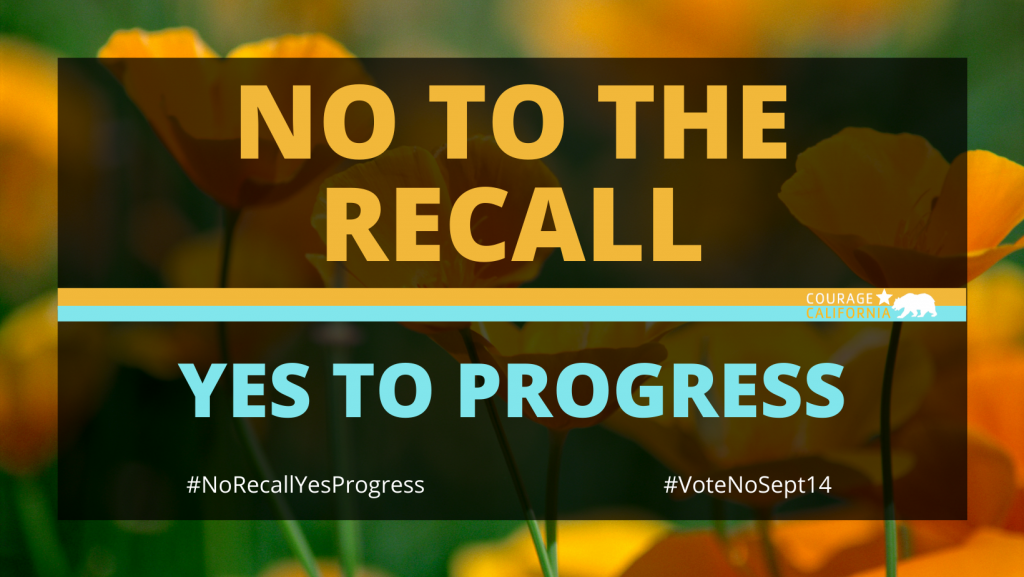 All Californians, regardless of political party or beliefs, must unite to stop the unnecessary recall of Governor Gavin Newsom. Our health, safety, and economic security depend on it.

With courage, we can say "No" to a recall and "Yes" to progress!

Here's what you can find on this page:
---
What you should know about the recall
The majority Of Californians support Governor Newsom
Over 60% of Californians voted for Governor Gavin Newsom in 2018.
While Governor Gavin Newsom has made mistakes, he has a 55% approval rating.
---
NO to the Recall Volunteer Opportunities
Want to do more to defeat the gubernatorial recall? If so, you've come to the right place! The Courage California team has gathered a list of statewide and regional opportunities for you.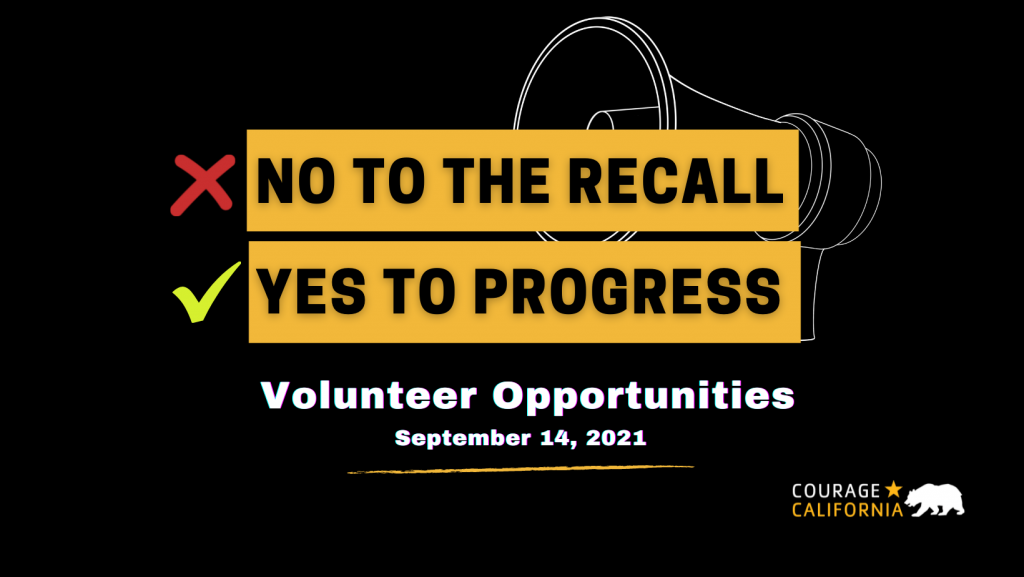 Recall ballots are out now across the state, and we need to turn out voters to defeat this Gubernatorial Recall Election and keep us on track for progress.
This recall election is not just about Governor Gavin Newsom — it's about all of us. Our communities and our shared values of equity and justice are on the ballot, and we can't afford to lose everything we've fought for in this dangerous election. If Governor Newsom is recalled, a Republican will take his place and lead the state. Twenty-four of the 45 candidates running to replace Gov. Newsom are Republican, and polls show Republican talk show host Larry Elder consistently leading the field with voters. The same polls and our own statewide youth poll also show that there are a lot of voters who are undecided about voting in the recall election and uncertain on how they will vote on their ballots.
We need as many volunteers as possible to inform all Californians that a NO on the recall is a yes to progress, a yes to equity and justice, and a yes to us demanding more courageous policies that protect our families and communities. ARepublican Governor will have the power to start rolling back our state's progress as soon as this November, and we can't let that happen. Help us make sure this vote reflects the will of ALL Californians by signing up to Get Out The Vote! No to the recall, Yes to progress.
Voter persuasion and turnout depends on voters hearing messaging that is meaningful to them, so choose a GOTV campaign that appeals to your own issue interests.
Sign up to send text messages
Directory of statewide and regional volunteer opportunities and events
Courage California's partner organizations are recruiting volunteers for Los Angeles County, Orange County, and many other statewide and regional canvassing, phone and text banking opportunities. Check out the list below to find an organization you'd like to volunteer for — and let them know that Courage sent you!
AHRI for Justice
AHRI was founded in December 2019 and exists to challenge the broken system and create new pathways for community so that no one lives in fear of deportation, and everyone has access to education, healthcare, affordable housing, and a healthy work environment. Interested in joining AHRI's recall volunteer efforts? Reach out to: organizing@ah-ri.org
California Healthy Nail Salon Collaborative
Founded in 2005, the California Healthy Nail Salon Collaborative is a statewide grassroots organization that addresses health, environmental, reproductive justice, and other social issues faced by its low-income, women, Vietnamese immigrant and refugee workforce. Interested in joining CA Healthy Nail Salon Collaborative's recall volunteer efforts? Reach out to: Collabive@gmail.com
---
Resources
Download Courage California Recall Explainer
The California Recall Explainer download includes:
What a recall is
Who is funding the recall
Why a recall is happening now
Who is running to replace Governor Newsom
What is at stake with the recall of Governor Newsom
How to get involved
And more…
Download social media graphics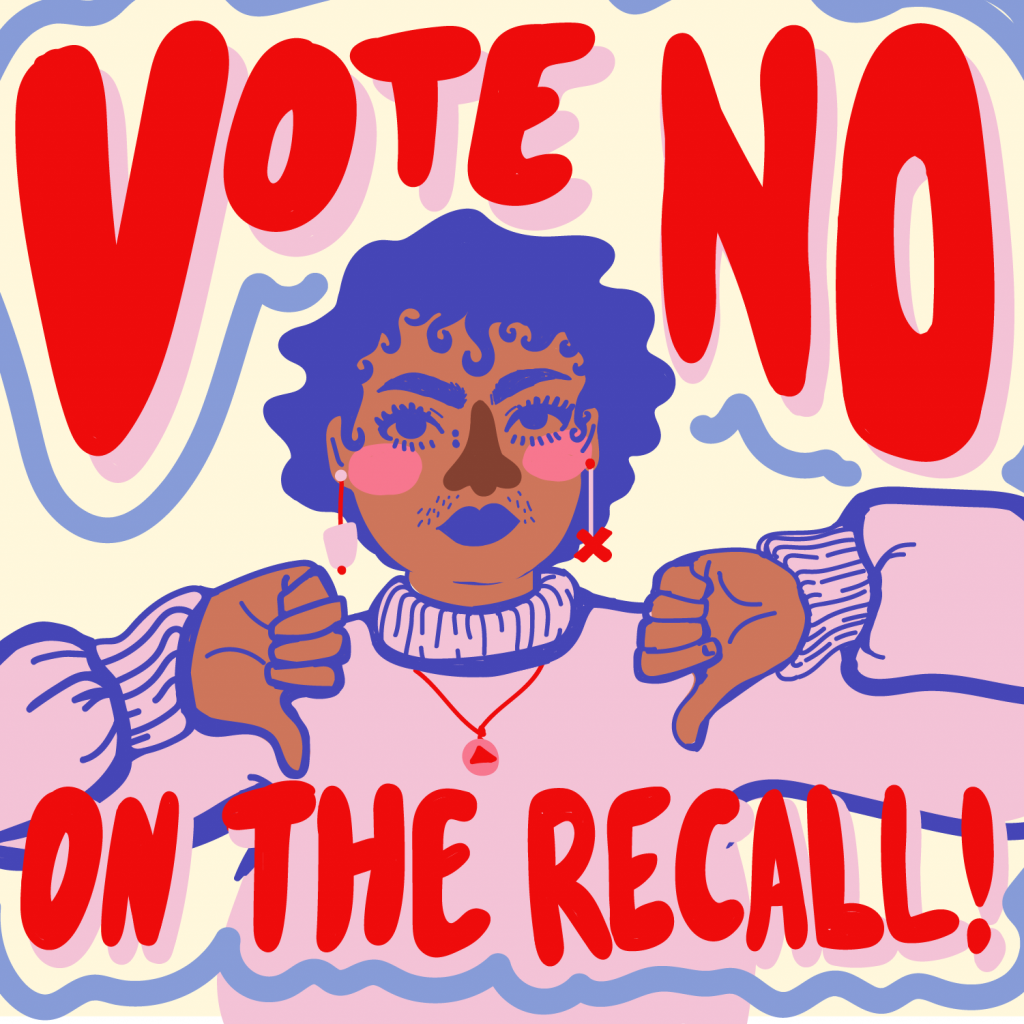 ---
Press & Media
READ & SHARE: Capitol Weekly Op-Ed
Authored by Irene Kao, executive director of Courage California, and Manuel Pastor, director of the USC Equity Research Institute.
WATCH: Press conference
Statewide Leaders and Advocates Call on Californians to Vote "NO" on the September 14 Recall
Press Release: July 23, 2021 — California leaders share what is at stake for our communities, state, and nation – should the unnecessary recall of Governor Newsom succeed.
WATCH: "No to the Recall, Yes to Progress" town hall
Hear about what's at stake, why it matters for all eligible Californians to vote, and what you can do now to say No to the Recall, Yes to Progress!
---
Take Action
Add your name to those of tens of thousands of other Californians who are saying YES to progress and NO to an expensive and unnecessary recall election.