This November, Courage California urges Californians to vote "Yes" on Proposition 16, to repeal 1996's Proposition 209 and reinstate affirmative action in the state.
Currently, California is one of only eight states that outlaws equal opportunity policies in hiring and education. Proposition 16 would change this – extending equal opportunity for all, to restore critical equal opportunity policies in state hiring, contracting, and education.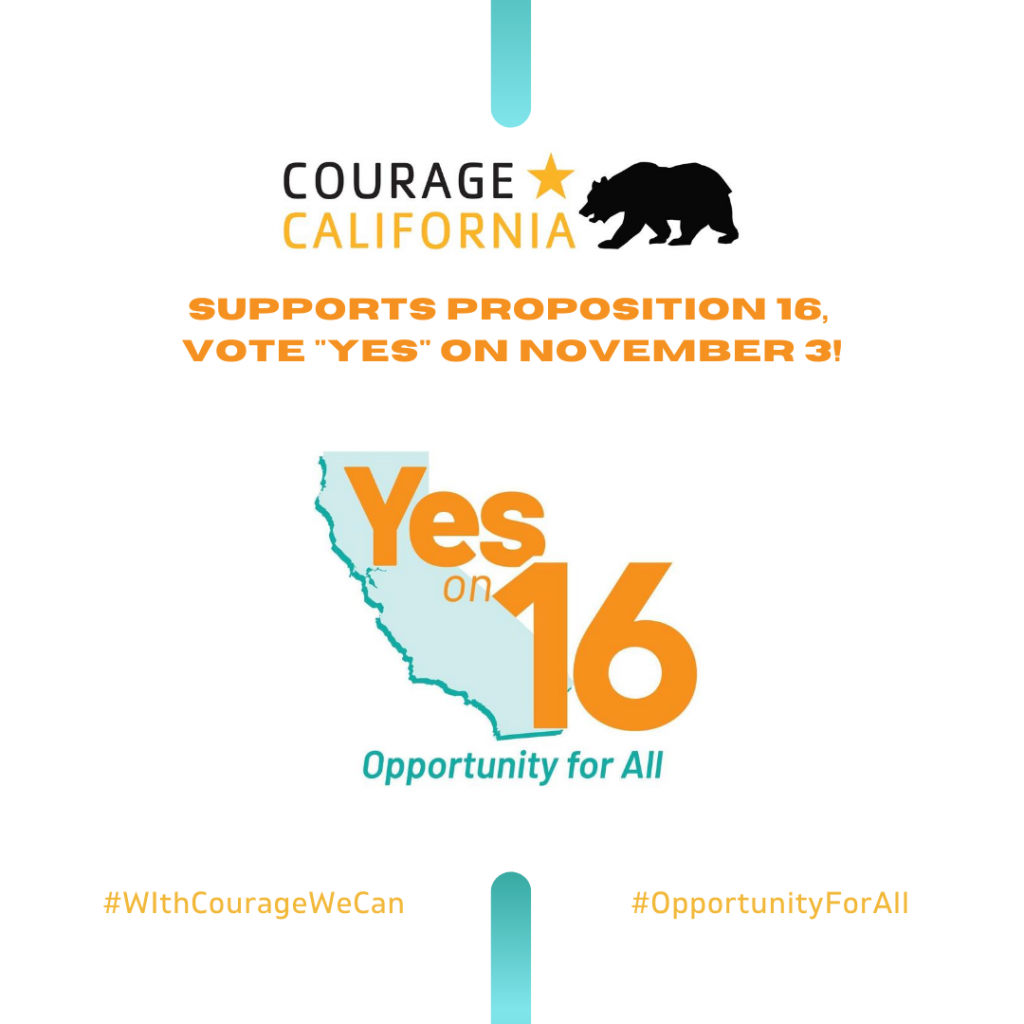 Sound familiar? A couple months ago the California Senate voted 30-10 to pass Assembly Constitutional Amendment  5 (ACA 5), an initiative to overturn Proposition 209. As a result, The constitutional amendment will now appear on the general election ballot in November. With Prop. 16, the power is now in the hands of California voters!
Proposition 209 was not beneficial to Californians, in fact – it was counter-productive to our diverse communities. Now is our chance to reinstate Affirmative Action, after 24 years. (Pete Wilson was the governor of California when the constitutional amendment was enacted.)
Prop 209's affirmative action ban resulted in over $820 million loss every year in Minority / Women Business Entities (MWBEs) contracts with the state of California.
The percentage of contracts granted to MWBEs never recovered to pre- Prop 209 levels.
To fully understand the historical context of Prop. 209, one must consider the political climate of California in the 1990's – and why and how Prop. 209 passed, check out: Ending California's ban on affirmative action could show how far it's come.
"When Proposition 209 was put in place nearly a quarter-century ago, voters bought into the argument that ending affirmative action would hasten the arrival of a color-blind society. As recent events have shown, that day clearly has not arrived,"

Dan Morain, Washington Post.
Californians for Equal Rights (No on 16) is funded by Students for Fair Admissions, which receives much of its funding from two major conservative trusts. Opponents of the upcoming ballot measure say it will create a new form of discrimination that could value race more than academic achievement and that it could particularly hurt admissions of some Asian Americans into UC campuses.
Admittedly, it is a contentious issue. But when all is said and done, Prop. 209 did not live up to its intent. Instead it proved to exacerbate the issue, as the data shows that African Americans and other minorities have been negatively impacted by it in different arenas, including public sector employment, state government procurement and public university enrollment.
"Yes on 16" has an extensive list of public and private supporters, and Courage California has officially joined in support. As Californians, we value diversity and fairness, and we know that ending discrimination is the right thing to do. Passing Prop. 16 allows us to remedy gender bias and racism, and in doing so, build a California that reflects our shared values. Learn more: voteyesonprop16.org
With Courage, We Can!