The New York Times just published an exposé on Amazon's work practices, and the revelations are terrible. Employees fired for one day of missing a productivity goal. Others fired by accident — through an app. A business model built on churning through a less tenured, lower-wage workforce. Amazon's relentless quotas, lack of breaks, and "mega-cycle" shifts that force employees to work from 1:30 am to 11:50 am are causing workers alarming rates of anxiety, depression, weight loss, insomnia, and migraines.
And still — Amazon continues to expand its presence in California, building warehouses in our state's lower-income communities and exploiting our labor force. In fact, Amazon has recently announced a new program for recent low-income high school graduates to work in Los Angeles–area warehouses while attending community college — funneling poor students into this same system.
Amazon is preparing to open several new warehouses in California, and we need to protect workers.
---
How to Help Warehouse Workers
Watch: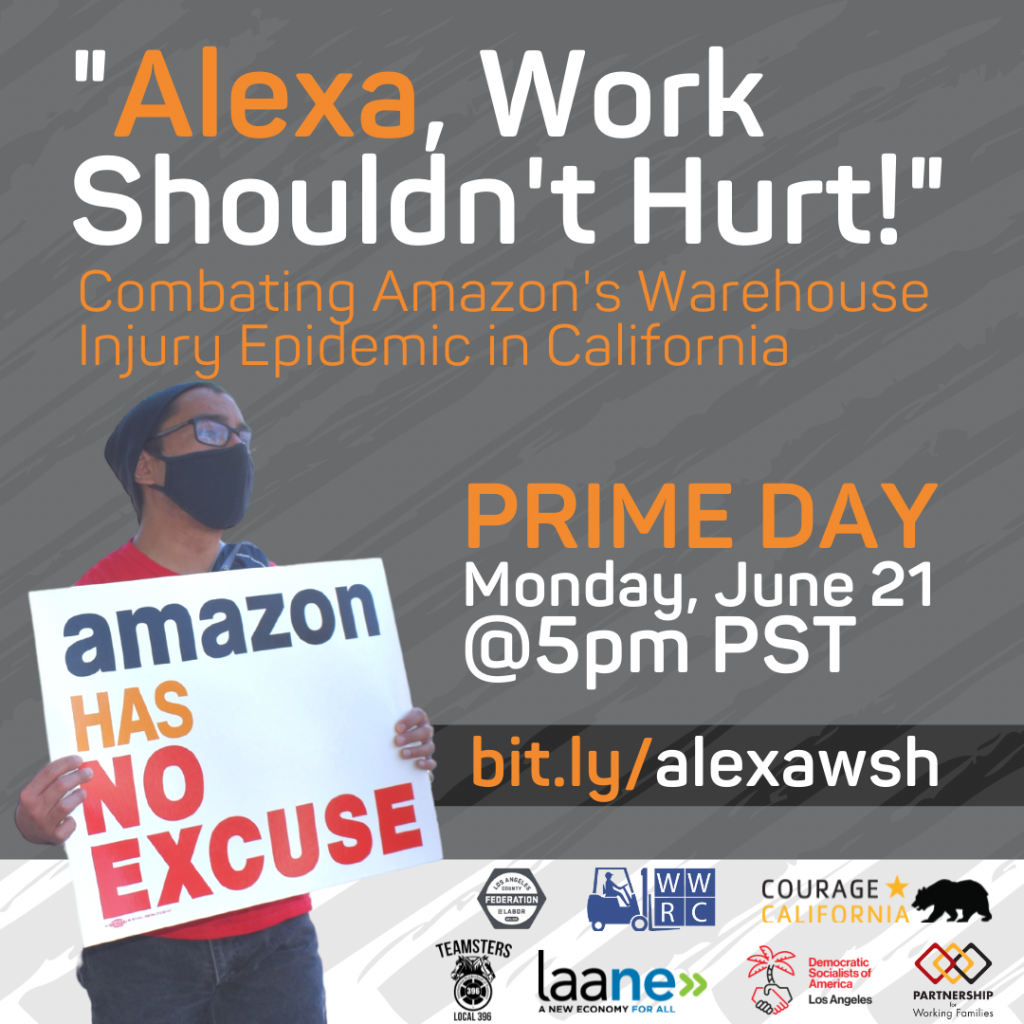 Amazon warehouse workers, labor and community leaders, and California Assemblymember Lorena Gonzalez came together for a virtual town hall on Monday, June 21 (Amazon Prime Day), to speak about Amazon's use of high production standards and policing of time-off task harms communities across California, and what you can do to help change these conditions.
We also learned about AB 701, introduced by Assemblymember Gonzalez, which would help protect warehouse workers from debilitating injuries due to dangerous work speeds and quota requirements.
Click here to sign up to help stop Amazon's worker abuses.
Share:
Help support California warehouse workers by sharing the below graphics on your social media channels — to help raise awareness about Amazon's worker abuses and AB 701.
Text Sample:
Work shouldn't hurt.
Yet Amazon has the highest injury rate amongst warehouse employers. Its injury rate is TWICE that of Walmart. That's because Amazon has dangerous quotas that it forces workers to meet all while denying them adequate break time to rest and recover. Working in an Amazon warehouse means working at a breakneck speed – literally.
Warehouse workers in California need more protections — NOW!
Sign the petition to pass #AB701 and contact your state senator for support. We stand with warehouse workers because #WorkShouldntHurt.
Sign the Petition