Year after year we are told that THIS is the most important election of our lifetime. Today, this warning has never rung more true. Peoples' lives, economic security, the future of our planet, and so much more are on the ballot (and on the line) in all 2020 elections — especially the less-publicized "special" ones.
Republicans at every level of government have shown us they are not equipped to lead through these difficult times. We need leaders who trust in and prioritize science and data — and what is more clear than ever is that Republicans who reject facts and reality are too dangerous to be in positions of power. Our communities deserve leaders who put the interest of the people above all else, which is why we need to elect Christy Smith on May 12 to the United States House of Representatives.
Christy Smith currently serves in the State Assembly, where she has earned a reputation for championing progressive childcare and education initiatives. Smith authored, and was instrumental in passing, important legislation that helps protect children and victims of human trafficking. Her legislative accomplishments are evidence that she is a strong advocate who can bring people together in order to advance progressive initiatives, which is exactly what Congressional District 25, California, and our nation needs.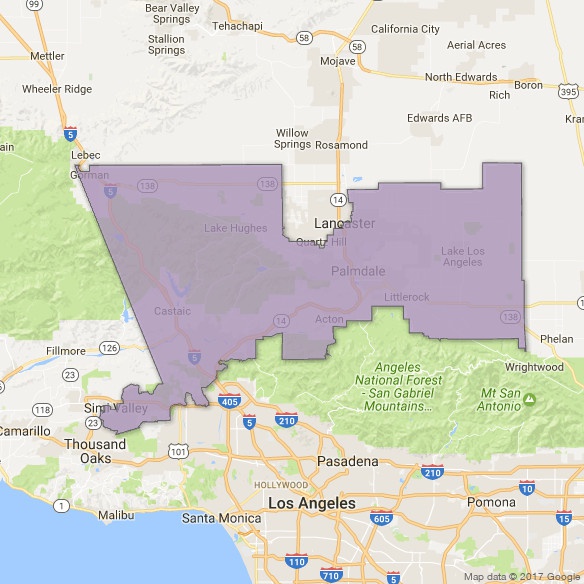 Congressional District 25 covers most of northern Los Angeles County and part of eastern Ventura County. It includes the cities of Palmdale and Santa Clarita, most of Lancaster and Simi Valley, as well as Porter Ranch. Christy Smith (D), a long-time resident of Santa Clarita, is running against Mike Garcia (R), an Iraq War veteran and an executive at Raytheon, a leading defense contractor. Garcia isn't the leader our community needs right now. We deserve someone who will fight to expand healthcare, not oppose it (as Garcia had done with the Affordable Care Act). Despite the continual blunders, and fatal missteps, made by the federal government in navigating the COVID-19 pademenic, Garcia fully supports the president and has stated that he believes the administration has done a decent job addressing the public health crisis.
Californians deserve a representative who will have the COURAGE to stand up and speak out on behalf of the lives and values of those they serve. We need accountability.
Republicans held this seat for over 25 years until Representative Katie Hill flipped the district in 2018. The upcoming special election, on May 12, will decide who fills the vacant seat Rep. Hill held, before she resigned from office in October 2019.
Rep. Hill's win was pivotal for Democrats to win back the House majority in 2018. As a result of that unexpected loss (after 25 years), Republicans are heavily invested in winning the seat back and taking back control of the district — a critical step in regaining control of the House. Bottom line: we cannot afford to lose Congressional District 25. A loss would be devastating for the residents of northern Los Angeles and eastern Ventura, who demanded and voted for change after a 25-year-streak of GOP representation, and it would be devastating to our state and nation to lose a seat that helps give Democrats a narrow majority in the House of Representatives.
The Republican war chest has flooded this race with resources and they are relying heavily on low voter turnout to win this seat back. We — as voters — have the power to turnout and ensure this doesn't happen. The winner of this race will instantly have a say in what our pandemic recovery efforts look like, and our communities cannot risk another politician who sides with the will of corporations over the will of the people, which is why we must elect Christy Smith on Tuesday, May 12.
Granted, Rep. Smith isn't everyone's ideal progressive candidate. In 2019, Rep. Smith only scored a 48 out of 100 on Courage Score, our annual progressive analysis of the CA Legislature. This was largely due to her casting unfavorable votes on affordable housing, economic justice, workers rights, racial justice, and political accountability. However, given the make-up of the district Rep. Smith seeks to represent, she remains a strong candidate for this district despite the fact that she voted "conservatively" on various pieces of legislation. This is part of why, despite her unfavorable Courage Score, progressive allies on the ground, especially those working with marginalized communities in the district, are strongly backing Smith. Regardless of Smith's unfavorable votes, her electoral support and substantial list of endorsements, in a recently flipped district, is exactly the coalition necessary for us to keep this seat blue. Unfortunately, this may not be enough on its own…
VOTERS WHO BELIEVE IN SCIENCE AND DATA must turnout to vote on May 12.
You can learn more about Christy Smith and her campaign, as well as how to vote in the upcoming special election by visiting our voter guide: http://www.couragevoterguide.org/